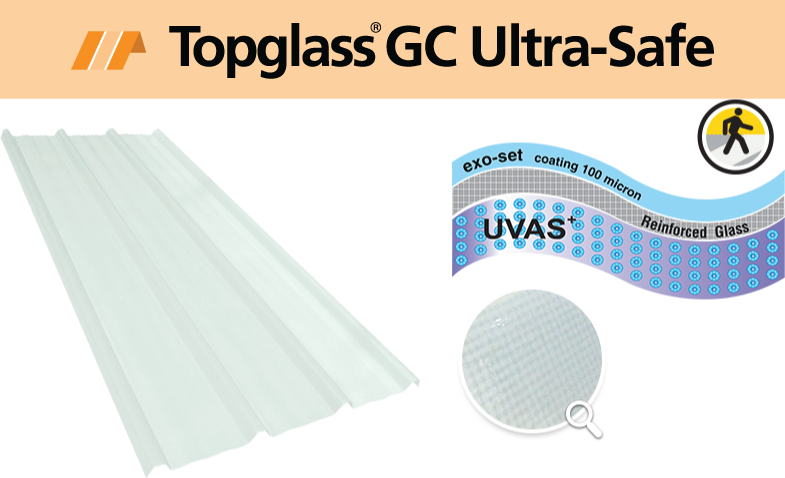 Where there is a possibility of FRP translucent fiberglass roofing sheets posing a danger to foot traffic on the roof or a possibility of not being able to install safety netting under the FRP translucent fiberglass roofing sheets, I-Cons Asia had jointly developed a heavy duty and high impact roof lighting system to alleviate these concerns.
Aptly named Topglass GC Ultra-Safe, the product utillses a heavy duty, woven roving reinforcing system positioned within the resin matrix, thereby providing exceptional strength. This made Topglass GC Ultra-Safe trafficable after meeting the impact strength tests of AS 4256.3 clause 11.3, AS 4040.4:1996
Weight/Thickness of sheeting
Topglass GC Ultra-Safe is supplied
as standard weight of
3660g/m2 (2.3 mm)

Whilst Topglass GC Ultra-Safe is classified as heavy duty, meets the impact test of AS 4040, satisfying the reequirements of AS 4256.3, and can support foot traffic, long term degradation and or post roof installation impact damage can seriously affect the performance of the sheeting. In order to comply with the requirements of AS 1562.3:2006 Part 3 Plastic, protect the weather surface coating and provide continual structural strength, all FRP products should be protected from foot traffic, therefore a suitable proprietary aluminium walkway is always recommended.
I-Cons Asia Co., Ltd. takes particular pride its JAS-ANZ Certification under the Benchmark Certification scheme. Recognised in over 90 countriew and providing security in every respect to customers, JAS-ANZ certification not only guarantees accurate systems process, and unlike other Quality Standard schemes, JAS-ANZ Certification also has the added advantage of ensuring our customers always receive consistent and monitored quality product, legally certified to AS/ZS 4256N. Patrs 1 and 3.
Being a manufacturer in the Kingdom of Thailand, I-Ccons Asia Co., Ltd. is also a certified manufacturer of FRP by the Thailand industrial Standard certification body obtaining the TIS 612-2549(2006) for Glass Fibre Reinforced Polyester Sheets. Like the JAS-ANZ certification this also unsures that all products have traceabillity all the way from each raw material through each step of process to finished goods.